NSW has some of the most amazing terrain to explore and we have a magnificent spot.
With hectares to roam around in, this private park has facilities for 4wheel drives, starting from very easy tracks to challenge yourself tracks, you might even feel brave enough to take the waterfall challenge!

With plenty of water wholes and creeks, you can bring along your kayak or just enjoy a dip in the heat of the summer.
There are plenty of camping grounds, with 3 of them having flushing toilets… yes you read it right! proper flushing porcelain loos!
The main camp also has showers and undercover area, all this with a view to a creek. Wow!
The wildlife is abundant, with wallabies parading around. A heard of friendly brumbies tend be around every corner you turn.
and some wondering goannas tend to be seen every now and then.
The camping sites have plenty of room for you to bring your 4wd vehicles on the back of a truck.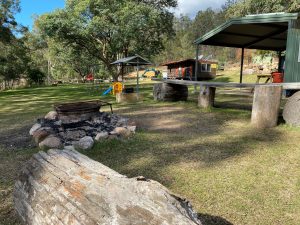 You can bring your caravan, tent or swags. There are plenty of fire pits and wood.
Pets are welcome under your supervision,

A lot of love and hard work has been put into making this site a very enjoyable stay.
Contact us for availability and current prices.